Movie Releases 08-29-23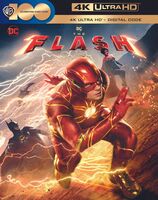 Worlds collide in "The Flash" when Barry uses his superpowers to travel back in time in order to change the events of the past. But when his attempt to save his family inadvertently alters the future, Barry becomes trapped in a reality in which General Zod has returned, threatening annihilation, and there are no Super Heroes to turn to. That is, unless Barry can coax a very different Batman out of retirement and rescue an imprisoned Kryptonian. albeit not the one he's looking for. Ultimately, to save the world that he is in and return to the future that he knows, Barry's only hope is to race for his life. But will making the ultimate sacrifice be enough to reset the universe?
FEATURES:
MPAA Rating: PG-13
Format: 4K Ultra HD + Digital
THE FLASH
"After defeating the Reverse Flash once and for all, the ninth season of THE FLASH picks up one week later following their epic battle, and Barry Allen (Grant Gustin) and Iris West-Allen (Candice Patton) are reconnecting and growing closer than ever before. But when a deadly group of Rogues descend on Central City led by a powerful new threat, The Flash and his team-Caitlin Snow (Danielle Panabaker), Meta-Empath Cecile Horton (Danielle Nicolet), the light-powered meta, Allegra Garcia (Kayla Compton), brilliant tech-nerd Chester P. Runk (Brandon McKnight), and reformed cryogenics thief Mark Blaine (Jon Cor)-must once again defy impossible odds to save the day. But as The Rogues are defeated, a deadly new adversary rises to challenge Barry Allen's heroic legacy. And in their greatest battle yet, Barry and Team Flash will be pushed to their limits, in order to save Central City one last time.
Jennifer Lawrence produces and stars in No Hard Feelings, a laugh-out-loud, edgy comedy from Gene Stupnitsky (director Good Boys, co-writer of Bad Teacher).Maddie (Lawrence) thinks she's found the answer to her financial troubles when she discovers an intriguing job listing: wealthy helicopter parents looking for someone to "date" their introverted 19-year-old son, Percy, and bring him out of his shell before he leaves for college. But awkward Percy proves to be more of a challenge than she expected, and time is running out. She has one summer to make him a man or lose it all.
FEATURES:
Genre: Comedy
Rating: R
Disc Format: BLU-RAY
NO HARD FEELINGS